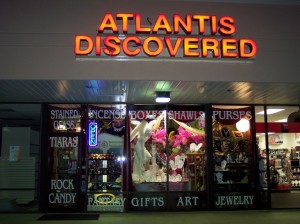 Atlantis Discovered Online store:
Atlantis Discovered Online Store.. Please visit at this link: (store is on another site).. https://atlantisdiscovered.myshopify.com 
Physical Store – We have just moved as of April 2018  Same shopping center but now at 7068 Bandera Road, San Antonio, TX 78238
We have THOUSANDS of items in our store in San Antonio. Come in and explore the wonders and secrets of Atlantis! Most of our stock changes so often, that it's impossible to take all the pictures, gather the description information, pricing, etc, and get it on the website before it's sold! So, generally, we only put items that we can get over and over. Much of our stock is ONE OF A KIND! (or a couple of a kind).
Our phone number is 210-523-7900