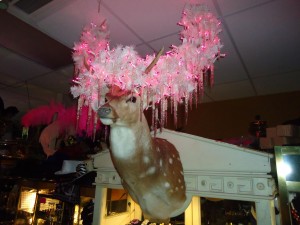 Atlantis Discovered has made an event out of decorating for major holidays. Our two favorites are Halloween and Christmas. For those, we take out all the stops and decorate everything that you can see. Even the decorations are decorated.
The best way to experience our store is to stop by, but for those who have never been, or who need a 'sneek peek', we will take lots of pictures and post galleries. For Christmas, we go one step further and put together a video tour. Our camera isn't that great, but you can get a really good idea of the visual excitement in the store. Click on the links in the menu above to find the latest tours. Previous years are also online so you can see the extent that we go to, to make each year different. You'll also find that even once we're done decorating, we can't leave well enough alone. Come in any time during the Christmas season and you'll notice that we've probably changed something.
In 2012 Atlantis Discovered moved into a MUCH larger location, right next door. This gave us MORE room for more products and of course for more decorations!