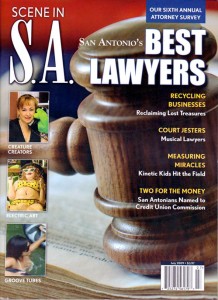 Atlantis Discovered was profiled in the Mavericks section of the July 2009 Edition of Scene In S.A. Magazine, The San Antonio Magazine since 1999.
With permission of Scene In S.A., we've reprinted the article below. Visit www.mysaweekly.com for more San Antonio news.
Unlikely Entrepreneurs Uncover Treasures
By Rosa Robinson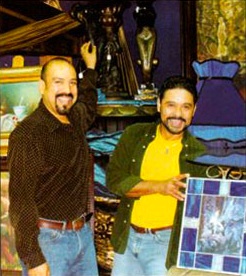 WHO WOULD HAVE EVER GUESSED Lady Luck would turn up in the form of an 84-year old antiques dealer? But that's the way Humberto Lizarraga and Michael Tijerina found her in the summer of 1997 in Pasadena, California.
The two men, who'd met at a dinner party two years earlier, didn't know anything about antiques or the retail business, but when the octogenarian owner of a collectibles business decided she'd had enough, they jumped at the opportunity. A mere $4,000 later, they were the owners of a warehouse full of antiques, large and small, treasures and trash.
They bought a display case for $50 and quickly discovered the lucrative business of reselling for profit. Their first item, an antique writing pen sold for $250.
Moved by their new endeavor, Lizarraga, 47, an engineer by trade, and Tijerina, 46, formerly in the hotel industry having catered such events as the Rose Bowl Parade, left their jobs and set out to fulfill their creative spirits.
Lizarraga took up the meticulous art of designing stained glass. He's created pieces for celebrities such as Bette Midler, Dolly Parton and Mexican performer, Luis Miguel. Even though he usually works in his home studio, Lizarraga still regularly travels to Pasadena to meet with his partner to complete works in progress.
And Tijerina is no less the entrepreneur. He has a keen eye for jewelry, and a flair for choosing oddities, art design and unique things he likes. After the two sold their antiques business in California, he began to travel in search of exclusive things to sell at Atlantis Discovered, a unique jewelry and gift store they opened here six years ago.
Creative tools in hand and sharp minds in tow, they moved to S.A. to pay homage to Tijerina's father, who asked before passing away that his children reunite here. Atlantis Discovered is Lizarraga and Tijerina's way of bringing their style and memories with them, while creating new ones.
"We want to offer our customers something unique, something they can't find in Texas," says Tijerina, who does all the buying for the store. "Here, they can escape into another world. They get lost for hours," he says of the four-room deep store where customers savor their time.
Many of the store's customers are dance troupes and the Fiesta Court, who seek that special piece of unusual jewelry to decorate their gowns and costumes for the Fiesta Flambeau and other area events. The owners also order elaborately decorated belly dancing outfits, bridal jewel sets, and art work from the Middle East and Asia.
The most frequent question asked is, "Who decorated your store?" The answer: They both did. Their relationship over the last 14 years has evolved to where they know what each one is good at doing, and they act on a whim, often producing one-of-a-kind things from the existing inventory. Or they may copy and original from the pieces they kept years ago.
They laugh as they discuss their roles in the business: Lizarraga handles the administrative aspect, while Tijerina spends the money.
"He has better taste in buying things for the store," says Lizarraga. "His things sell better and sell quicker."